How to Spot a Bad Mechanic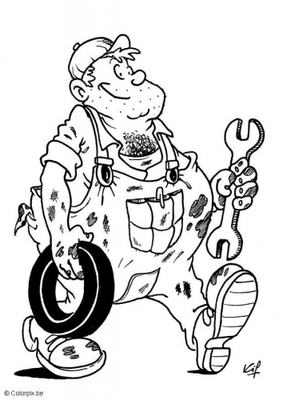 Credit for picture: http://www.edupics.com/coloring-page-auto-mechanic-i8158.html
We have all heard the horror stories about mechanics that will purposely disable a car to bring in more profits and maybe even a few of us have fallen victim to dishonest mechanic past. This is the extreme end of what damages a bad mechanic can inflict on a car but there are more things to consider when choosing a mechanic than simply trust. Trust in your mechanic is obviously a paramount concern but it will not always get your car repaired. Looking for an honest mechanic should be a priority so long as you also look for a competent mechanic. But with one auto shop looking pretty much like the next, how can you spot a bad mechanic in the future? There are a few indicators and tips that clients can use to determine not only the honesty level of a mechanic but also that mechanic's proficiency in repairing cars.
The first way to discover a mechanic's reliability is by contacting the Better Business Bureau and asking for a report on the specific mechanic shop. The BBB will be able to inform you if past allegations or investigations have been leveled against the shop. Another reliable source of information concerning a mechanic shop's history is the AutoClub. They too will have information regarding specific auto shops.
After finding the history of a shop through these reliable resources a person can look at visible clues surrounding an auto shop that will describe to them what type of quality work will be performed on their cars. Some of these physical indicators include the general organization and cleanliness of a garage. Remember however that these people's jobs involve a lot of moving parts and grease so don't be too judgmental when it comes to your cleanliness standards. A general cleanliness should be observed and organizational practices should be followed. The business that cares about organization will most likely care about their customers.
By doing a little research and by looking for general clues in an auto repair shop you will be able to better judge the quality and honesty of your mechanic in the future.