Boat Safety Tips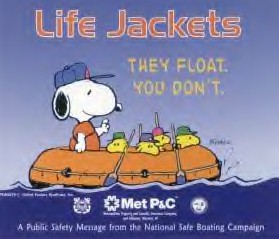 Do you know how to make sure that your family is safe on the boat? Taking time to make sure that everyone is safe while on the boat may be obnoxious at first, but when you think of the risk that you are minimizing it may suddenly become a necessity. You should always prepare your family or whoever else you are boating with, to make sure that you are as safe as possible when you are out on your boat. To stay safe on a boat you are going to want to start by…
Bringing enough life jackets for everyone in the boat. This way, should there be an emergency everyone is going to have a life jacket to put on. As you are boating, you may want to have everyone put their life jacket on just to make sure that you do not run into any sticky situations.
Do not allow too many people to get onto the boat. When the boat is overloaded it may not react properly to the driver. This can create the potential for a very dangerous situation.
Know the area that you are boating in to ensure you do not run your boat onto a submerged object or even a low water area. You want to be sure that you are not going to damage your boat or injure those inside of the boat.
Use your flag properly and when someone is in the water make sure that the flag is flying. This way, other boats around you are going to avoid anyone that is in the water.
Boating can be a great opportunity to enjoy the water, enjoy your boat and enjoy loved ones. Take time to prepare your boat and those people inside so that you prevent dangerous situations from occurring, the best that you can.
Credit for picture: http://www.google.com/imgres?hl=en&newwindow=1&biw=1280&bih=869&tbm=isch&tbnid=IECuMOxXsAbTIM:&imgrefurl=http://www.outboardmotoroilblog.com/boating/194-boat-safety-tips/&docid=YpIUftsTsUwdsM&imgurl=http://www.outboardmotoroilblog.com/wp-content/uploads/2008/05/boat_safety.jpg&w=279&h=239&ei=S0tvUPKSBsHYywH324HABQ&zoom=1&iact=hc&vpx=346&vpy=61&dur=2044&hovh=191&hovw=223&tx=155&ty=118&sig=101045988527551176276&page=1&tbnh=142&tbnw=166&start=0&ndsp=23&ved=1t:429,r:1,s:0,i:74